Customer Service Policy
Our customer service representatives are available to help you. To reach us, please email us at service@simplynecessary.com. Someone will return your email within 5 business days.
At Simply Necessary, Incorporated our goal is to make your life as a parent or caregiver comfortable. We make innovative, superior products for babies and toddlers. We promise our product will be free from defects at the time of manufacture. If a defect is discovered during the limited warranty period (within one [7 day] week of receiving the product ), we will, at our sole discretion, repair or replace your product. If you feel this is necessary, please send us your defective merchandise, proof of purchase, and a letter detailing why the product is defective. Please remember to include your name, address (no P.O. Boxes), and phone number. We cannot be held responsible for lost shipments. In addition, failure to provide complete information will result in no response from Customer Service.
Please ship to the following address:
Simply Necessary, Incorporated
Attn: Customer Service
7206 Hileman Drive West
Lakeland, FL 33810-4704
Once the item has been received we will inspect it, and if it is found defective, we will replace it with the same or like item at no additional cost to you.
This limited warranty does not cover claims resulting from misuse, failure to follow the instructions on installation, maintenance and use, abuse, alteration and normal wear and tear.


New Products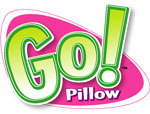 Latest News
Due to its versatility, The GoPillow! meets several needs of care givers. The product packaging can continue to be used for easy transport of the GoPillow! When cared for properly, the GoPillow! can be used for several years.